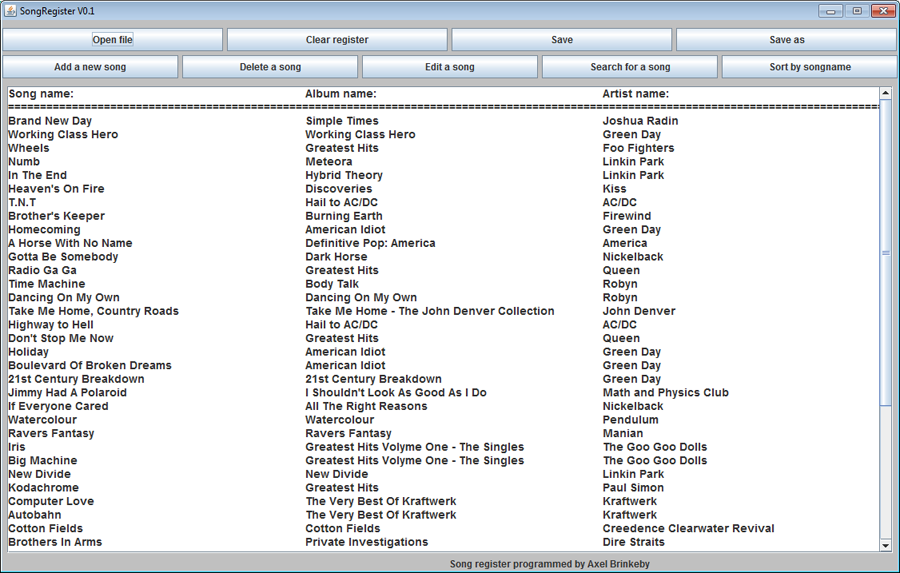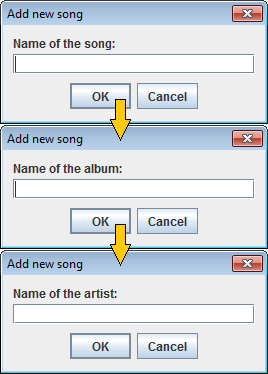 This is my song database program written in Java. The goal of this project was to learn about object-oriented programming and basic file handling. This program also uses a more advanced graphical user interface with buttons and other components. This is what the program can do:
Open database from .txt file

Save database to .txt file

Add a new song to database

Edit a song in the database

Delete a song in the database

Search for a song in the database

Sort all songs in the database alphabetically.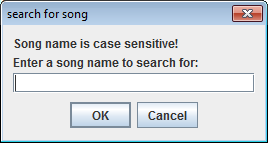 The program uses a "JFrame"-window with "JButtons" to do the things listed above, and a "JTextArea" to display the content in the database.
When a "JButton" is pressed, a standard dialog window is displayed were the corresponding task can be done. Standard dialog windows can only have one input field, therefor multiple dialog windows are displayed when multiple values should be imputed. For example when a new song should be added to the database (shown to the right).
Download source code
Click here to download the source code.
I have used a free Java IDE called "jGRASP" to develop this program. The zip-folder only contain the source files. You need to compile it before you can run it.