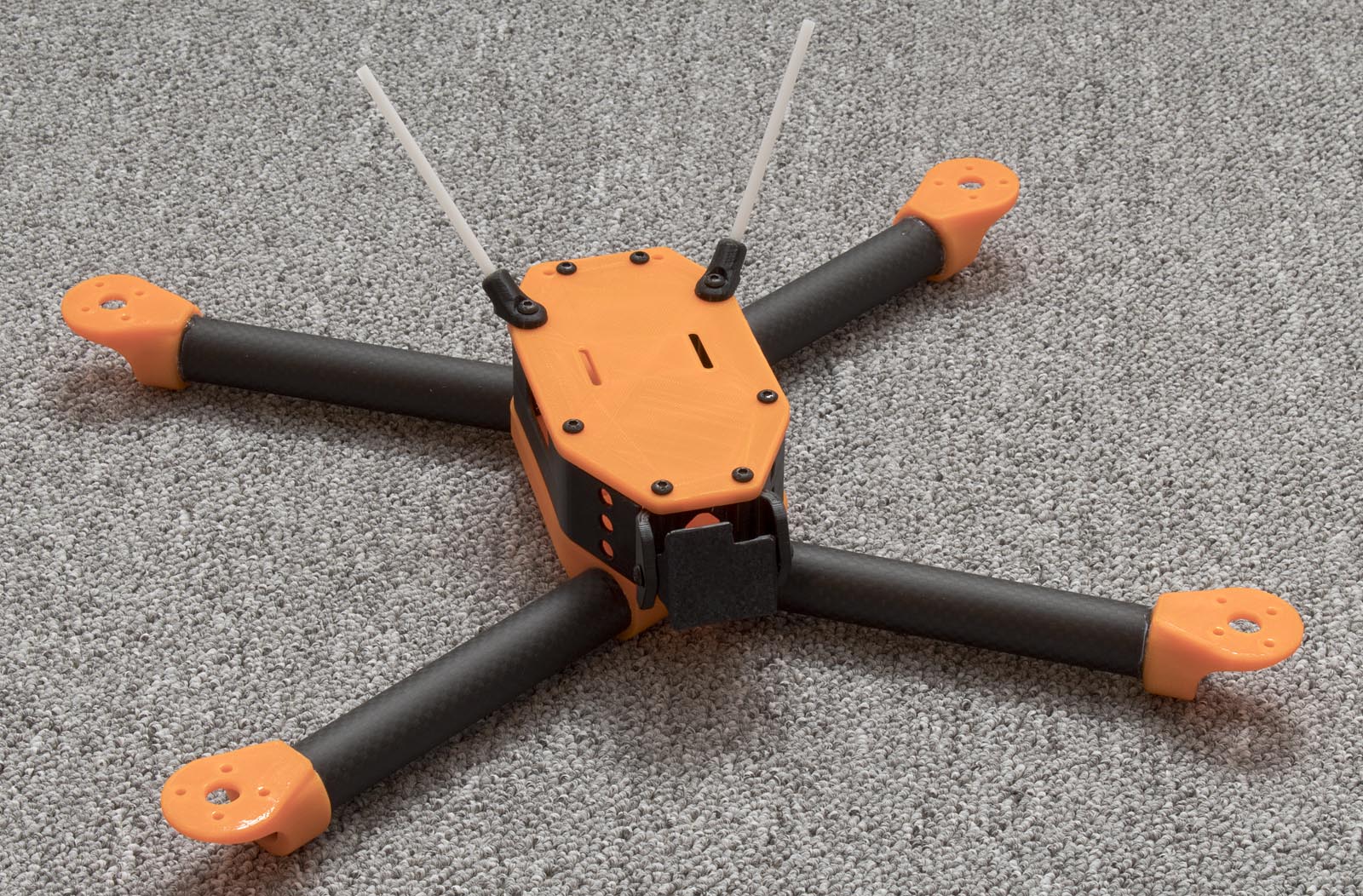 This page is under construction!
This is a 3D printed quadcopter designed for FPV flying. The design is inspired by my other 3D printed quadcopter but is smaller and more durable. The size is chosen to fit 6-inch propellers comfortably. 18 mm carbon fibre tubes are used as motor arms.
I got my carbon fibre tubes from Hobbyking. But any tubes with 18 mm outer diameter will work. Link to the carbon fibre tubes I used:
https://hobbyking.com/en_us/carbon-fiber-round-tubes-18-16-500mm.html
Those tubes are 500 mm long. If you cut one of those in four equally sized pieces you get the perfect lengths. If you want to use smaller than 6-inch propellers, you can make the arms even shorter. Sorter arms make the quadcopter more durable. This quadcopter is still not as durable as those carbon fibre racing quadcopter frames you can buy. But is this on breaks in a crash, it can usually be repaired with some CA glue.
Setup
Motors: Racerstar Racing Edition 2205 2300KV
ESCs: Racerstar 20A BLHELI_S OPTO
Flight controller: Omnibus F4 V2 PRO with Built-in 5V BEC and current sensor
Battery: LiPo 3 cell 2200mAh
Propellers: 6×4 Kingkong
Assembly
When assembling the quadcopter frame, dry fit all parts and make sure everything fits as intended. The inside of the plastic parts may need to be sanded slightly for the carbon fibre tubes to fit. I use a "sanding cylinder" on a rotary tool for this. Start by glueing the motor mounts to the carbon fibre tubes. Then glue the arms to the main baseplate, while keeping the entire assembly upside down on a flat surface to make it straight and square. Use CA glue. The rest of the parts, including sidewalls and top plate, as well as camera mount and extra parts, are attached using 10mm long M3 screws. many extra parts have the same hole spacing (20 mm), making it possible to assemble the quadcopter in many different configurations depending on your needs. If you want to mount many parts in the same screw holes, longer screws may be needed.
Download
Download all STL files here: <link available soon>