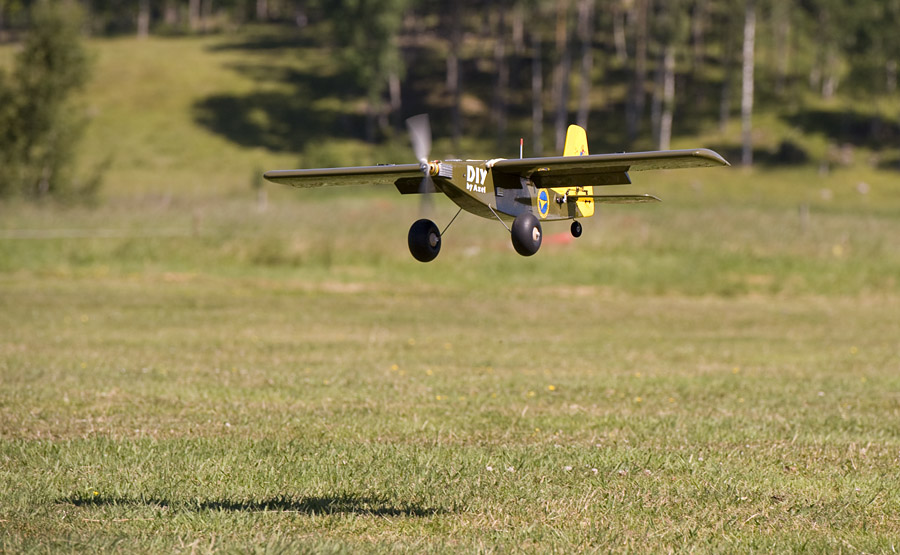 I built the BushBeast during the summer of 2009 and made several updates during 2010. It weighs about 1300 grams and it has a wingspan of 1 meter. It is a combination of an aerobatic airplane with large control surfaces, and a bush flying airplane with pneumatic balloon wheels.
There are totally seven control surfaces on this airplane, four on the wing and three in the tail. All seven control surfaces has separate servos that are controlled by two different PIC microcontrollers. The purpose of the microcontrollers is to achieve a more complex flap mixing and blending of the airplane's roll and yaw gyros and control signals. In normal flight mode all four control surfaces on the wing acts as ailerons. But during take off and landing, the inner control surfaces acts as flaps to reduce speed and increase lift and just the outer control surfaces acts as ailerons with a slight upward offset. The flaps work great, they are very effective. The gain of the stabilizing gyros can be adjusted from the transmitter. The mixing features in the microcontrollers makes the airplane very manoeuvrable but also very stable.
There are also a third PIC microcontroller that monitors the voltage of the battery and flashes two ultra bright white LEDs when the voltage is low.
BushBeast has a AXI 2217/12 motor that is powered by a 4-cell, 2300 mAh LiFe A123 battery. The motor turns a fairly big 10×5 inch prop and this combo can momentarily give a motor load of about 500 watts. Both the motor and the ESC has home made heat sinks to keep them cool. Without the heat sink the motor would not be able to handle this wattage.
The power solution to the servos in the airplane is also a bit special. Instead of using a standard BEC (Battery Elimination Circuit) or voltage regulator, all wing servos are powered directly by two of the LiFe cells, and the tail servos are powered directly by the other two. This gives every servo 6 – 7 volts.