Monthly Archives:
October 2014
My new small airplane I have designed for indoor flying. Go to the Stik pusher page to see more images.
To extend the life span on LiPo batteries, they should be stored at the correct voltage. Most hobby chargers have a build in program for storage charging LiPo batteries, but mine did not. So I desired to make my own. Read more about how I made it on the DIY LiPo storage discharger page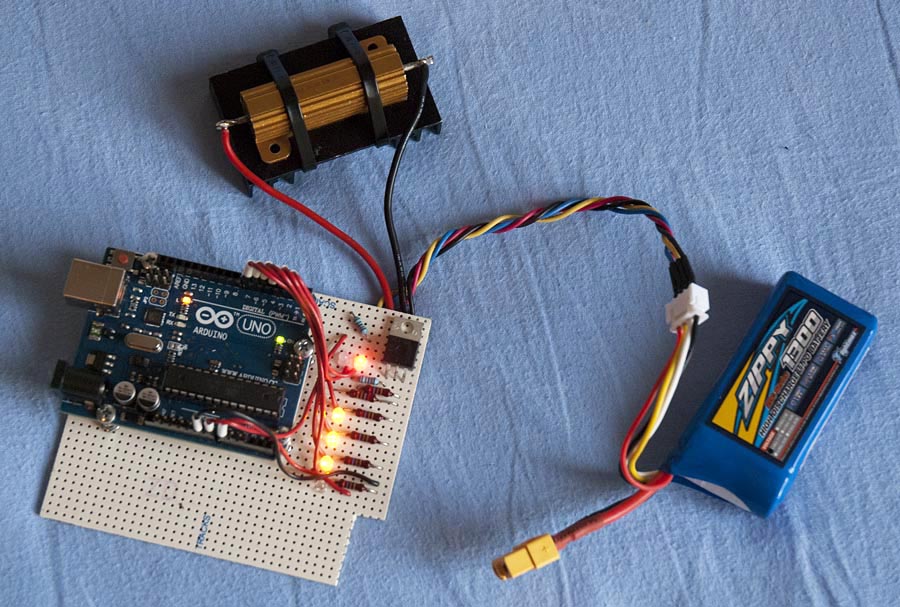 This is a small indoor airplane designed to be very durable, easy to fly and fast to build. It is based on an old model called "Tichy Stick" by J.A Benson. The original model is designed for a Cox .010 engine and meant to be built out of balsa. My version is built out of 3 mm depron (foam). I have moved the motor back and turned it around to create a pusher. This makes it very durable. I have also created a open battery tray on the top front of the fuselage for easy access. The plane is designed for a 5-7 gram outrunner with a 5 inch propeller and a 2 cell 300-500 mAh battery. The wingspan is 620 mm and the flying weight should be around 60-80 grams. I have not yet tested this design but I am pretty sure it will fly great. I have tested a depron version of the original "Tichy Stick" which flies good.
Plans: stikPusher.pdf   (1.8kB)
3D model make with "SketchUp Make": stikPusher3Dmodel.skp   (1.4MB)